Allegia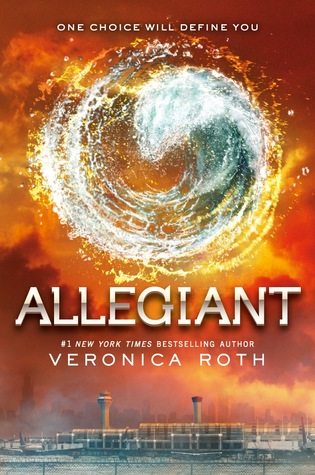 nt
by 
Veronica Roth
Genre: 
Young Adult Dystopian
Series: 
Divergent #3
Source:
 Purchased  
Book Summary:
The faction-based society that Tris Prior once believed in is shattered—fractured by violence and power struggles and scarred by loss and betrayal. So when offered a chance to explore the world past the limits she's known, Tris is ready. Perhaps beyond the fence, she and Tobias will find a simple new life together, free from complicated lies, tangled loyalties, and painful memories. 

But Tris's new reality is even more alarming than the one she left behind. Old discoveries are quickly rendered meaningless. Explosive new truths change the hearts of those she loves. And once again, Tris must battle to comprehend the complexities of human nature—and of herself—while facing impossible choices about courage, allegiance, sacrifice, and love. 

Told from a riveting dual perspective, Allegiant, by #1 New York Times best-selling author Veronica Roth, brings the Divergent series to a powerful conclusion while revealing the secrets of the dystopian world that has captivated millions of readers in Divergent and Insurgent.
I'll say it again: a let-down of Matrix-level proportions. Why do I say it? Because, like the Matrix Trilogy, with the last installment, the entire story collapsed under its own weight, crushing (ie. killing off) basically all of the characters, to the point where the audience is so horrified that they lose all emotional attachment to said characters and start to wonder if maybe everyone would have been better off staying blissfully ignorant?
Now, as with the Matrix, I experienced the whole series back-to-back. I can't even imagine the betrayal felt by fans who waited and waited for each book to come out, only for it to end like this. The same emotional reactions could have been elicited without the story becoming so unnecessarily tragic. Actually, there would have been a better emotional reaction, because the reader would not have been struck numb by shock. The tragedy was simply unnecessary.
So that was the ending. Let's talk about the book:
The more I think about it, the Great Revelation of the last book was just okay. Not bad, really, but not enough, given the ending.
I did like that Tris and Tobias each got to narrate. Tobias is so, so much more sympathetic a character that I found his narration refreshing after Tris' harsh, judgmental coldness.  However, the narrative "voice" of both Tris and Tobias sounded virtually identical, and I often had to go back and check to see whose chapter I was reading. I know it can be hard to pull off dual narration, but I do wish there had been more differentiation.
This is how it should have ended: Allegiant Alternate Ending
And this should have been the epilogue: Allegiant Alternate Ending Epilogue
If, like me, Allegiant either ripped your heart out or numbed you to the whole series, read those, and salvage yourself.
I can only hope they fix this massive mistake in the movies. I won't hold my breath.