COPPER RAVENS
(Copper Legacy #2)
Author: Jennifer Allis Provost
Publisher: Spencer Hill Press
Pub. Date: June 17, 2014
Synopsis:
Sara should be happy.
She has what every girl wants: a man who loves her, a beautiful home, and wealth beyond imagining. She rescued her brother from the Peacekeepers, destroyed the Iron Queen, and doesn't have to go to her boring job any more.
And yet… Sara still doesn't know if her father is alive or dead. Her mother hides in the garden, brooding about her missing husband. Her sister, the Inheritor of Metal, is scared of her own shadow, and her brother spends his days fighting and gambling. To add to Sara's misery, the new queen (gold, of course) is more than a bit crazy, she misses her life in the Mundane world, and, worst of all, Micah wants to have children. A lot of them.
As Sara wavers between happiness and homesickness, a conspiracy emerges against the Raven clan, implicating them in a plot to dethrone the Gold Queen. How can Sara prove her family's innocence, and become the consort Micah needs her to be, without losing herself in the process?
The Enduring Allure of the Fae
Whether you call them fairies, faeries, fey or the fae, there's no denying that fairies are cool. Early humans told stories to explain the world around them, ranging from lightning being attributed to Zeus' thunderbolts to Persephone's time in the underworld as to why the season's changed. Fairies were no exception, and had all sorts of things attributed to them. Half your face paralyzed? A fairy must have stroked your cheek. If your crops aren't growing, you didn't make the proper offerings to the fey. And never, ever mess with a fairy hill.
Not only are the fey dangerous, they're incredibly beautiful. Gancanaghs are fairy men who lure maidens into the woods; afterward, the girls pine for their fairy lovers and waste away. The leanan sidhe, a cousin of the bean sidhe, acts as a sort of psychic vampire for artists. The artist falls in love with the beautiful fey lass, only to have her slowly suck away his talent, and eventually his life.
So, the fey are beautiful, dangerous…and devious, always forcing mere mortals to perform tasks of pass a test. In the classic tale Tam Lin, Janet is seduced by a fairy knight, who later confesses that he's being held captive by the fairy queen herself. The knight instructed Janet to wait at a crossroads for the fairy host to pass, and that he would be riding alongside the queen. Janet did so, and per his instruction pulled him from his horse and held him fast, while he transformed into things from a snake to a red hot bar of iron. At the last she flung the hot metal into the well, and her lover was set free of the fey.
Fairies are the perfect mix of danger, beauty and intrigue. Is it any wonder that they captivate us still?
And don't miss the first book of the Copper Legacy,
Copper Girl!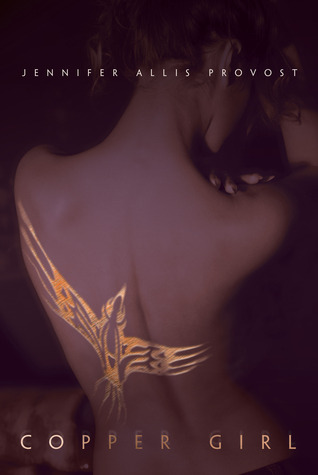 Sara had always been careful.
She never spoke of magic, never associated with those suspected of handling magic, never thought of magic, and never, ever, let anyone see her mark. After all, the last thing she wanted was to end up missing, like her father and brother.
Then, a silver elf pushed his way into Sara's dream, and her life became anything but ordinary.
Jennifer Allis Provost is a native New Englander who lives in a sprawling colonial along with her beautiful and precocious twins, a dog, two birds, three cats, and a wonderful husband who never forgets to buy ice cream. As a child, she read anything and everything she could get her hands on, including a set of encyclopedias, but fantasy was always her favorite. She spends her days drinking vast amounts of coffee, arguing with her computer, and avoiding any and all domestic behavior.
Giveaway Details:
1 signed copy of COPPER RAVENS with a swag pack