Ethereal Fury
(Gemini Rising #1)
by Jessica O'Gorek
Genre: YA paranormal romance
Publisher: Cogent NY
Date of Publication: April 2013
Book Description:
BEWARE! THE PLANET IS WOUNDED… THE GEMINI ARE RISING AND OUR TIME ON EARTH IS LIMITED

Angry at the human race and its methodical destruction of her resources, Mother Earth recruits souls who have just left their bodies to serve Her, and turns them against humanity. Gemini, a clan of paranormal beings, picked from these possessed humans, emerges. A powerful, rising force proceeds to carry out Mother Nature's plan to systematically destroy towns, cities, states… and eventually, the world. Amidst the chaos, a forbidden relationship between a human girl, Violette, and Onyx, a lead Gemini, begins. They will both find themselves in the middle of a revolutionary war that will either save, or destroy our world.
Book Trailer:
Chapter 18- Sisters

Violette was in hell.  She had no other description for what was happening to her. All she could do was endure the evil that had taken her over. Helpless to defeat it, she marched towards the church, her pain preventing her from shutting down completely. If she could sleep, maybe it wouldn't hurt so badly. But every time she felt herself growing faint, her pain receptors jerked her awake again.

She felt suffocated by her own behavior, completely removed from the body she cared for; it had betrayed her, giving in to this force. The pain kept her quiet. Fear of permanent disfigurement did too. She needed her fingers! They were sickly bouncing around at her side, only the skin kept them attached. She promised herself she would read that book on demonology from front to back, if she got out of this alive.

You should've been a little nicer to me. It spoke to her now, but not out loud because they had entered the church hall. This shouldn't hurt too badly. Violette watched her fingers move in backwards motion to the healed state.

Okay brat, now we are going to have a little fun. What is your name?

 "Violette," she announced out loud.

No talking out loud, idiot! My name is Lilly and I can tap into your memories like a movie, okay? I can watch the whole story, which would keep me here longer, or we can play question-and-answer. Which do you prefer?

The thought of this "Lilly" monster getting into her thoughts and memories made her quiver.

Question-and-answer was Violette's detached reply.

Good idea, although I would've enjoyed the other more, I'm sure.

She walked a few feet towards the dining hall, found a table, and sat down heavily. They were visibly tired from the internal battle and conversation.

Now, I need to know what you normally do from day to day, with no variations. No reason to draw attention to ourselves. I need for you to tell me where to go and what to do to blend in. Lilly's arrogance was rather oppressive and Violette did not find it easy to obey her, but her sarcastic reply was classy.

Mass. You need to go pray for your soul. The statement was followed by Violette's uncharacteristic cackle of laughter.

I'm glad I amuse you, Lilly said flatly. Then she touched the delicately healed fingers of her left hand as a threat.

I can't go to mass. Give me something else, Lilly demanded, getting impatient.

Confession is next. Violette informed her.

Okay, we're going to pass on both of those. Where can we go to hide? There was no immediate response; Violette was pondering.

The field, under my magnolia tree, the…. she trailed off, and didn't finish which made Lilly deeply curious.

 The what? Lilly insisted. What were you going to say?

There was a pregnant silence before she muttered the answer, the cellar. Her voice was barely audible.

Lilly perked up at the mention of a dark underground place. It would be much like home.

On the inside, Violette shook just thinking about the place where she had recently encountered the bishop. The memory of hitting that floor so hard, and hearing very clearly the smack of her cheek, froze her veins.

Lilly stood up, not needing directions on how to get to the cellar, her strength in this body increased as Violette weakened more with every passing minute. She could feel the girl getting smaller; her essence began curling in on itself. She put up a good fight, but of course, she would lose.

Please tell me why you are doing this.

Her voice was further away now and Lilly didn't bother to answer her. Violette spoke again, almost in a whisper: What do you want? Why won't you t…talk to me?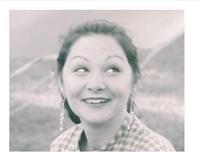 I grew up admiring my father, Barry Weinstock, as an author. He took me around the country to different places so he could research and write his Wilderness Survival books. One of his greatest works, "The Path of Power," was written with a great medicine man, Sunbear.

When I was twelve I started hand writing novels. My first one was two thousand pages. My dad always encouraged me and would rave about my writing. He gave me the confidence I needed to keep writing and follow my dream. My daughter, who is twelve, is currently working on her first novel. I hope to continue the legacy.

 Website | Goodreads | Facebook | Twitter

Tour giveaway

5 signed print copies with a book mark, post card and signed art graphic open to US Shipping

$25 Amazon gift card