"Grabby Paws" is my version of the Waiting on Wednesday meme hosted by Breaking The Spine that highlights upcoming releases that I can't wait to get my paws on. 🙂
Today I have grabby paws for…
Only one witch can rise above the coming storm …
When Tudor witch Meg Lytton receives an unexpected legacy – her mother's magical wand, ring and spellbook – she has no idea her future happiness is in danger. For the witchfinder Marcus Dent is back in her dreams, and he will use any weapon to gain her newfound powers for himself.
Now Meg must discover the secret of Invictus, her mother's magical ring. Summoned back to Hatfield, she knows a battle is coming. But Meg is no longer alone in her struggle against Dent. Surrounded by her friends, she faces her greatest challenge head-on: losing Alejandro, her beloved. For it seems the Spanish novice has been keeping secrets from them all.
Powers clash and hearts break in the spellbinding third book of The Tudor Witch Trilogy.
Why I have grabby paws…
So…two of my favorite things? The Tudor Era & witches. Now that the third book is out I can binge-read them all!
Releases September 30th
I also have grabby paws for…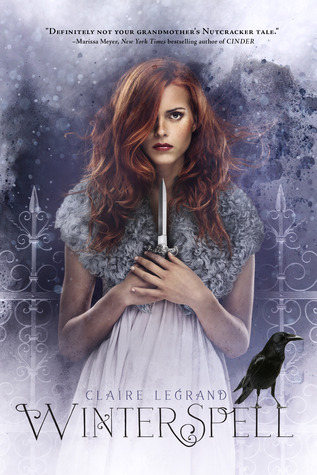 The clock chimes midnight, a curse breaks, and a girl meets a prince . . . but what follows is not all sweetness and sugarplums.
New York City, 1899. Clara Stole, the mayor's ever-proper daughter, leads a double life. Since her mother's murder, she has secretly trained in self-defense with the mysterious Drosselmeyer.
Then, on Christmas Eve, disaster strikes.
Her home is destroyed, her father abducted–by beings distinctly nothuman. To find him, Clara journeys to the war-ravaged land of Cane. Her only companion is the dethroned prince Nicholas, bound by a wicked curse. If they're to survive, Clara has no choice but to trust him, but his haunted eyes burn with secrets–and a need she can't define. With the dangerous, seductive faery queen Anise hunting them, Clara soon realizes she won't leave Cane unscathed–if she leaves at all.
Inspired by The Nutcracker, Winterspell is a dark, timeless fairy tale about love and war, longing and loneliness, and a girl who must learn to live without fear.
Why I have Grabby Paws…
All that need be said is this:
NUTCRACKER RETELLING!
But I'll also add FAERIES and VICTORIAN!
Releases September 30th